WooCommerce Smart Refunder removes pain from the refund process – both for customers and store owners.
With WooCommerce Smart Refunder:
Customers can request a refund from My Account – easy, quick and complete
Customer get instant refunds if store owners opt in and the payment gateway supports it
Store owners can see refund requests in WooCommerce and process them manually, if instant refunds are unavailable
Store owners can issue cash refunds or store credits (need a separate plugin Smart Coupons)
Customers can request full or partial refunds
Order and pricing details are available for review
The process is quick, simple and automated
A refund means you've lost a customer. Delay and complications could lose them forever
Digital / Downloadable Products
If you are selling virtual products, digital goods or subscriptions – the refund process can be fully automated with WooCommerce Smart Refunder. Customers request a refund and get it instantly.
Cash Refunds or Coupons
If you have chosen to provide coupons for refunds, and customers want them, a new coupon is emailed instantly.
Physical Products
If you are selling physical products or a gateway that doesn't support refunds, Smart Refunder allows customers to request refunds from My Account and shows refund requests to you in WooCommerce. You then process them manually and complete refund requests. This saves you time since all required details are available at your fingertips.
Typical Refund Process
Unhappy Customer contacts support team via email/chat/phone
The customer gives order/product details and asks for a refund
The store owner looks into the request, verifies the order in WooCommerce and the payment
If the store owner cannot find the transaction, more details are requested from customer
Once transaction details are confirmed, the store owner logs into PayPal (or chosen gateway) website
Store owner locates the transaction and issues a refund, then replies to a customer that a refund has been issued
This process could take hours to days, depending on how quickly support requests are processed. It's never a pleasant experience for the store owner or customer.
Smart Refunder Process
Customer logs in to My Account area and locates the order for a refund
Customer completes refund request form, mentioning reason and amount of refund
Status of the order changes to "refund-requested"
Based on settings and payment gateway compatibility, an instant cash refund or coupon is issued
If the instant refund is not allowed/possible, the store owner can manage the refund from WooCommerce
Processing the refund, the store owner can accept or reject refund, issue full or partial refund, and can also send a message to the customer.
Both customer and admin get email notifications of all updates
Order status changes to "refunded" once processed
Conclusion
Smart Refunder marks a new era in refund/returns management with WooCommerce. Eliminate the pain of requesting and handling refunds. Start using Smart Refunder today.
Installation
Ensure to use WooCommerce 2.5 or later before installing WooCommerce Smart Refunder.
Download the .zip file from this page.
Go to: WordPress Admin > Plugins > Add New to upload the file you downloaded with Choose File.
Activate the extension.
More information at: Installing and Managing Plugins (http://codex.wordpress.org/Managing_Plugins#Installing_Plugins).
Storewide Settings
You can access this setting from 'Smart Refunder' tab at 'WooCommerce -> Settings'
Offer Coupons: If the checkbox is checked, customer will have additional option to choose coupon for refund along with money. If the customer is planning to buy another product from your store he /she can choose coupon which they can use on your store to buy that product.
Refund Period: Here store owner can enter number of days, and customer will be able to submit their refund request within these many days from order completion date. If no value is entered, it'll allow request for refund for all older order also.
---
2Checkout API Settings
Go to 'Smart Refunder' tab of 'WooCommerce -> Settings' & select on '2Checkout'. To enable 'Instant refund' for 2Checkout, you'll need to add your 2Checkout API details. If you don't know your 2Checkout API details, follow this link
2Checkout's documentation (http://www.putler.com/support/faq/how-to-get-2checkout-api-username-and-password-details/) on obtaining API credentials for 2Checkout.
---
Making Refund Request
When customers are logged in & they are on My Account page, they'll see additional button 'Request Refund' with each of their completed orders.
Clicking this button, they'll see this window.
At the top, it'll show information about how much they had paid for the order and when, how much is already refunded (if partially refunded previously)
If 'Offer Coupon' is checked, in Smart Refunder setting, customer will have option to choose either coupon or money for refund, under 'I would like to get'
Then they can choose, how much amount they want for refund
They can also write reason or any message that they want to send to store.
Email sent to customer:
---
Managing Refund Requests
When 'Refund Behavior' checkbox is unchecked at 'Smart Refunder Storewide settings' this process will come in picture, otherwise not.
Whenever any customer will make a Refund Request, store owner will receive an email containing 'Refund Request details' and 2 buttons: 'Refund Now', 'Manage / Reject Refund' like this
Store owner will also have these buttons on Order list of WooCommerce, in 'Actions' column like this
If store owner will click on 'Manage / Reject Refund' button from email, they might see login page, because store owner should be logged in to process refund.
After logging in & clicking 'Manage / Reject Refund' button, this window will open up
This window will have details about order, how much & when it was paid, how much is already refunded (if partially refunded previously).
Then it'll have information about what 'Customer wants' along with reason / message (if any)
After this, Store owner will have amount field, if he / she wants to modify refund amount.
Then can also enter a message which will be sent to customer via email.
Possible actions in managing refund request:
If customer has requested money:

If payment gateway of the order doesn't support 'Instant Refund', store owners can refund manually. Then order will be marked as refunded. But we would recommend store owner to mark it as refunded only when they know that all the transaction related to the order is completed.
If payment gateway supports 'Instant Refund', you'll get 'Send Refund Now' button. On clicking this button, refund will be processed immediately & refund will be reflected in your & your customer's account.

If customer has requested coupon:

After clicking the 'Send Refund Now' button, a coupon will be generated of the amount entered by the owner or of the amount customer has requested & its code will be sent to customer's email like this.Email Coupon Code To CustomerStore Owner will see a confirmation like this.Issued Coupon SuccessAlong with that, the generated coupon code will also be recorded in 'Order Notes' for future reference.
After logging in and clicking 'Send Refund Now' button from 'Actions' column of Orders, the refunds will be process immediately & after completion of the process store owner will see confirmation in popup window. This process will be same for 'Refund Now' button from email.
The only difference between 'Send Refund Now' & 'Manage / Reject Refund' is that 'Send Refund Now' doesn't allow to edit refund amount and it doesn't allow to add any message for customer. It's like store owner accepts 'Refund Request' from customer with all agreement.
---
Screenshot Gallery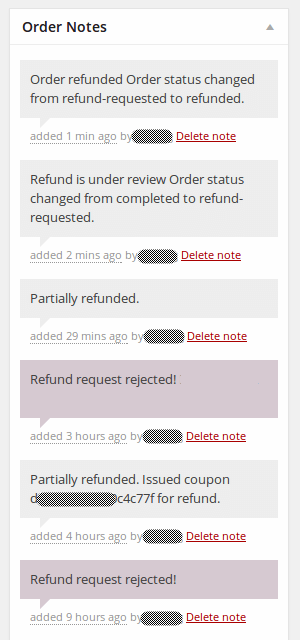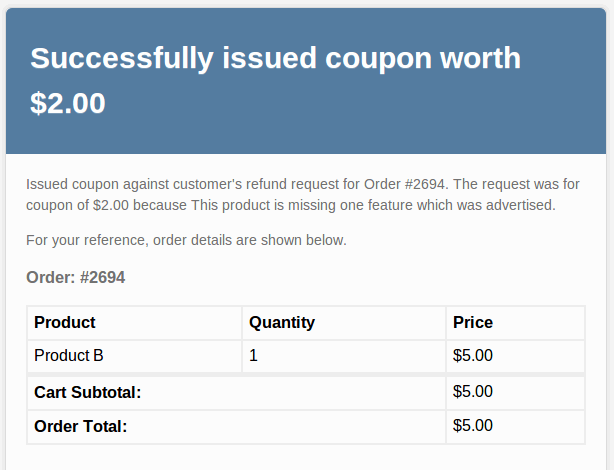 ---
FAQ
Which product types are supported?
A refund request can be submitted for all product types. If the instant refund is enabled in storewide setting & payment gateway supports instant refund, a refund will be processed immediately only for digital/downloadable/virtual products. For physical products, it'll be held for review.
Which payment gateways are supported for instant refund?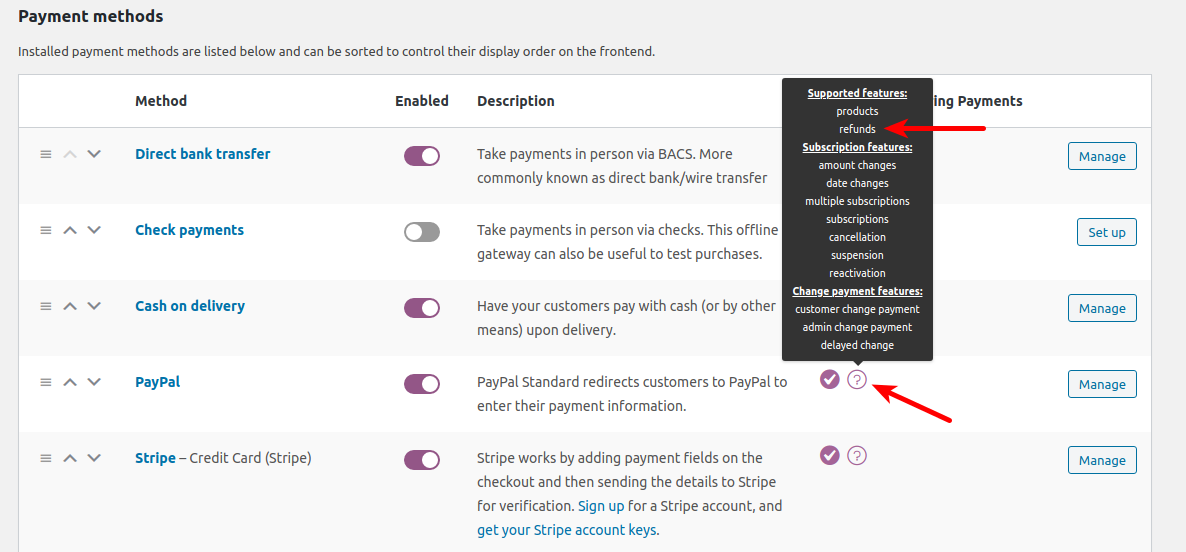 Instant refund will work only if that payment gateway supports refunds, otherwise store admin will have an option to refund manually. Check below screenshot to find out steps if your payment gateway supports instant refunds:
Download
https://www.mediafire.com/file/2sk8e114s1a862d/xplorecart.com_woocommerce-smart-refunder_v1.5.4.zip/file
https://www24.zippyshare.com/v/tSo4klo6/file.html
Demo
https://bit.ly/3nu5jYJ
---
If you are having trouble with Free Download Smart Refunder 1.5.4 Nulled Crack, try to disable AD blocking for the site or try another Web Browser. If disabling the AD blocker or change the Web Browser not help you please contact us.
How can I make sure my script and templates are virus-free?
If you want to make sure that an add-on is virus-free, you can use Virustotal.com to analyze files online through your browser and be sure that they are safe files.
Are the free downloads of Smart Refunder 1.5.4 nulled safe?
Yes, they are safe since they are 100% original, bought from the developers.
Scripts and themes under GPL License
All Scripts are 100% original under GPL General Public Licenses. (Non-nulled / crack version), you can use them as often as you like and on all the sites you want.
All media source: Click Here
Returns and Warranty Requests 1.9.23 – Best Free WooCommerce Plugin
Yoast SEO Premium 16.1 Nulled – WordPress SEO Plugin Download
FS Poster 4.5.1 Download – WordPress Auto Poster & Scheduler