Accufy is a complete SaaS-based Business & Accounting Software that gives your customers the ability to create and manage businesses, invoices, estimates, customers, tax & expenses. Users also can create multiple businesses with different currencies so they can easily keep track of their businesses in one platform.
Admin Demo
Username: john  
Password: 1234
User Demo
Username: admin 
Password: 1234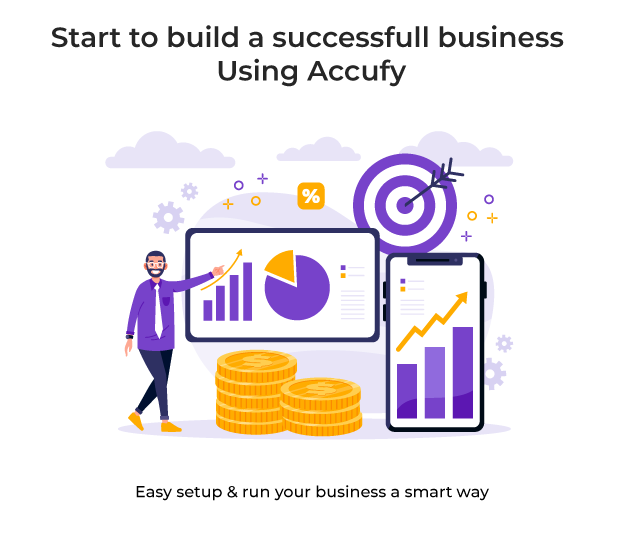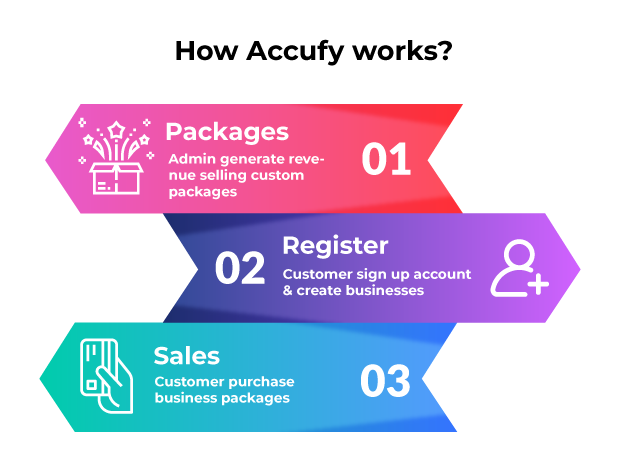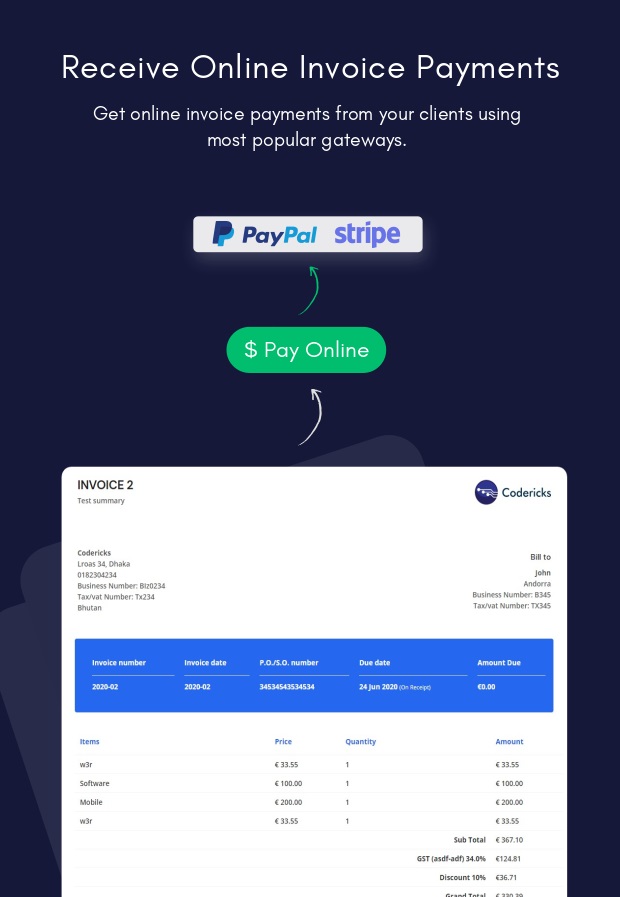 Key Features:
Easy Integration & Customization
Standared & clean code
Fully Responsive Design
SEO Optimized & SEO-Friendly URL
Manage website with unllimlited features & pages
Manage pricing package & features
Manage Testimonials
Manage Contact Messages
Manage Users
Manage Blogs with category
Custom Packages
Cash flow chart reports
Net Incomes
reCaptcha enable / disable opiton
Email verification enable / disable opiton
Paypal payment enable / disable opiton
Registration enable / disable opiton
Google Analytics
SMTP email with PHPMailer library
Google reCaptcha attached with (Register & Contacts forms with enable or disable option)
Advanced settings option
Admin & User panel
Multiuser options
Membership System with 3 packages
Paypal payment system
Manage Customers
Manage Categories
Manage Tax
Manage Products
Manage Vendors
Manage Expenses
Create & Manage Estimates
Create & Manage Invoices
Create & Manage Recurring Invoices
Customer based currency option
Multiple templates for invoices & estimates
Tax & discount for invoices
Record payment for invoices
Print Invoice
Csutomer preview option for Invoices & Estimates
Send invoice to email
Live currency converter
User billing & upgrade option
Multiple business options for users
Business wise currency & invoices
Auto disable expire user accounts
Ajax secure Authentication
Jquery Data tables & form validations
Sweetalert popup notification with ajax
Toaster notification with ajax
Detailed Documentation with commented code
Totally Secure System
Advanced Settings Options with Enable or Disable options
Change Logo, Favicon, Site Title, Site Description, etc. from Admin Panel
Easy Installation Using Installation Wizard & no need any coding skills
Runs on PHP 5.4+ (and PHP 7)
Security:
There are various mechanisms to secure the application. These mechanisms are:
Cross-Site Request Forgery (CSRF) Prevention
Cross-Site Scripting (XSS) Prevention
Password Hashing
Update logs v1.9 – 03-02-2021
 

- Added new template in backend
- Added appearance section in admin panel > settings
- Added user subscription payment invoice
- Added invoice record payment logs
- Added plan enable/disable option
- Added credit notes
- Improve auto generate invoice number
- Improve invoice tax calculation issue
- Fixed payment upgrade issues

Update logs v1.8 – 08-12-2020
 

-Added bills/purchase order
-Added time zone option
-Added enable/disable frontend website option
-Added description field in invoices
-Added report > profit & loss
-Added report > sales tax
-Added report > Income by customers
-Added reports > Purchases from vendors
-Improve signup section and make it simple
-Improve package edit option in superadmin
-Improve admin settings sections
-Improve user dashboard
-Fixed overdue issues 
-Fixed user wrong count issue in admin dashboard

Update logs v1.7
 

-Added 2 new invoice template
-Added payment settings in user dashboard
-Added receive invoice payment using paypal/stripe
-Added Product Stocks
-Added Product stock enable/disable option
-Fixed invoice export issue
-Fixed invoice print design issue
-Fixed invoice information missing issue
-Fixed expense file download issue
-Fixed invoice payment convert total amount issue

Update logs v1.6
 
-Added GST value insert option in tax
-Added multiple gst tax value system in invoice
-Added customer number & vat code in customers
-Added business number & vat code in business
-Added Convert invoice into recurring invoice
-Added order option in home features
-Added image upload option for home hero image

-Fixed all recurring invoice issues
-Fixed decimal number price issue
-Fixed upcoming recurring payment dashboard
-Fixed pending payments in dashboard
-Fixed rtl responsive & radio button issue

-Improve invoice number format
-Improve invoice tax system
-Improve estimate section
-Improve design issues
-Improve performances


Update logs v1.5
 
-Added package discounts
-Added stripe payment method
-Added missing translations
-Improve reports section
-Improve recurring invoice
-Fixed responsive issues

Update logs v1.4
 
-Added manage Business categories
-Added export pdf button on the customer preview page
-Added missing translations
-Improve reports section
-Improve recurring invoice section
-Improve the expense section
-Fixed invoice items empty search bugs
-Fixed invoice payment due bugs
-Fixed subscription bugs
-Fixed wrong count invoices
-Fixed save settings bugs
-Fixed responsive issues

Update logs v1.3
 
-Added missing language values
-Added tab for recurring invoices
-Added Business based invoice number incrementation
-Added Invoice delete enable or disable option
-Added multilingual enable or disable option
-Added invoice export to pdf option
-Added pre-default invoice footer note for per business 
-Fix offline payment bug
-Fix vendor bug
-Fix tax show on invoices checkbox issue
-Fix email verify the problem
-Fix export to pdf invoice
-Fix recurring invoice edit
-Improve the multilingual system
-Improve frontend template design

Update logs v1.2
 
-Added offline payment
-Added Auto verified for the basic package
-Fix Monthly subscription bugs
-Added Trail option
-Added Invoice products scroll
-Added customer from invoice
-Invoice accent color for other pages

Update logs v1.1
-Added user reports
-Added partial payment for invoice
-Fix email verificaiton problem in admin login
-Fix business bugs
-Fix registration bugs
-Fix some css issues
-Improve some functionapreties

Requirements: There are some requirements to work on your server. These requirements are:
---
Download Accufy v1.9
http://www.mediafire.com/file/1p9kxqwj7hbm0ox/xplorecart.com_accufy-19nulled.rar/file
https://www78.zippyshare.com/v/vRohD5CG/file.html
Demo Accufy v1.9
http://bit.ly/3b9g0KE
If you are having trouble with Free Download Accufy v1.9 Nulled Crack, try to disable AD blocking for the site or try another Web Browser. If disabling the AD blocker or change the Web Browser not help you please contact us.
How can I make sure my script and templates are virus-free?
If you want to make sure that an add-on is virus-free, you can use Virustotal.com to analyze files online through your browser and be sure that they are safe files.
Are the free downloads of Accufy v1.9 nulled safe?
Yes, they are safe since they are 100% original, bought from the developers.
Scripts and themes under GPL License
All Scripts are 100% original under GPL General Public Licenses. (Non-nulled / crack version), you can use them as often as you like and on all the sites you want.
All media source: Click Here
Global DNS – #1 DNS Propagation Checker – Best PHP Script
My Social Network – Best App and Website v5.6
Spin the Wheel v1.0 – Best HTML5 Game (.capx)
QuickQR v5.7 – Saas – Best Contactless Restaurant QR Menu Maker – nulled